Medvedchuk's wife Oksana Marchenko was brought to the Peacekeeper base
According to the "Peacemaker", the TV presenter denies Russian aggression and is the owner of companies in Russia.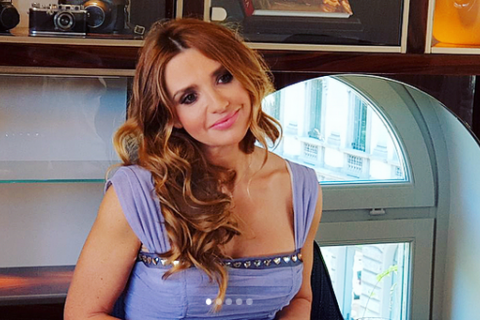 Oksana MarchenkoPhoto: instagram.com/oksana.marchenko.official
The wife of Viktor Medvedchuk, the head of the political council of the OPZZh party, TV presenter Oksana Marchenko, got to the base of the Myrotvorets center.
Marchenko found herself in the base of the "Peacemaker" for "financing terrorists and Russian occupiers. Denial of Russian aggression. Participation in propaganda activities of Russia (aggressor country) against Ukraine. Participation in attempts to legalize the occupation of Crimea by Russian invaders. Illegal commercial activities in occupied Russia . Participation in the smuggling of goods and goods on the territory of Ukraine occupied by Russian invaders and Russian terrorist gangs. "
According to the Peacemaker, Marchenko is also opposed to the independence of Ukrainian Orthodoxy from the ROC.
The profile presents numerous testimonies of the People's Deputy's wife's involvement in the activities of a number of companies operating in the Russian Federation and the Russian-occupied territories of Ukraine, as well as a fragment of an interview with her.
It is known that the godfather of Marchenko's daughter is the president of the Russian Federation Vladimir Putin, the TV presenter declares that maintains relations with him.
According to published information, Marchenko also owns a stake in the Ukrainian TV channel "1 + 1".
Earlier, Ukrainian journalists exposed a scheme under which oil products from Russia's Novoshakhtinsky plant , controlled by the family of Ukrainian politician Viktor Medvedchuk, are supplied to the United States despite personal sanctions against the MP.
It is reported that the Russian company NZNP Trade, controlled by Medvedchuk's wife Oksana Marchenko, is extracting oil at the Gavrikovsky oil field in the Khanty-Mansiysk district of the Russian Federation.
Raw materials are delivered by tankers to the Novoshakhtinsky Petroleum Products Plant in the Rostov region, where they are processed, after which they are delivered by vessels to storage tankers stationed in neutral waters off the coast of the occupied Crimea.
In September 2020, "Schemes" said that Marchenko became the owner of a Moscow construction company . The name of the construction company is in tune with a number of companies of the Medvedchuk family, which are involved in the production and refining of petroleum products in Russia.
It will be recalled that on February 2, President Volodymyr Zelenskyi put into effect the National Security and Defense Council's decision on sanctions against TV channels 112, NewsOne and ZIK, connected with representatives of the OPZZ party and MP Taras Kozak, as well as two planes flying direct flights to Russia.
(c)LB.UA 2021