Navalny was taken to the Khimki police department
Politics Alexei Navalny, detained on the evening of January 17 at passport control at Sheremetyevo airport after returning to Russia, was taken to the Second Police Department of the Russian Ministry of Internal Affairs in the city of Khimki. This was reported by the oppositionist's associates.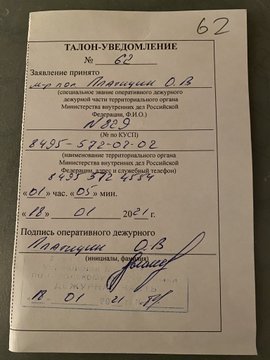 THE NOTICE FOR NAVALNY!
There he spent the night. Lawyers were not allowed to the politician.
Navalny flew to Sheremetyevo from Berlin, where he was treated after being poisoned with Novichok poison . The plane of the Pobeda company, on which the politician was flying, was originally supposed to land at Vnukovo, but before landing, the liner was redirected to another airport.
In the border zone – before the politician crossed the Russian border – Navalny was stopped by police officers acting on the orders of the FSIN.
The department announced that the politician is on the wanted list "for multiple violations of the probationary period" in the "Yves Rocher" case . The FSIN accuses Navalny of not fulfilling the duties of a conditionally convicted person and evading inspection control, so the department demanded to replace his suspended sentence with a real one. Until the election of a measure of restraint by the court, Navalny will be in custody, the FSIN said.
RETURN OF NAVALNY TO RUSSIA