OSCE SMM again spots Russian electronic warfare system in occupied Donbas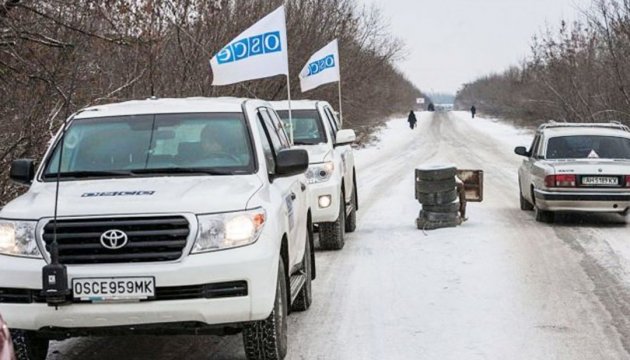 02.12.2020 11:10
An OSCE SMM long-range UAV spotted the latest Russian electronic warfare system R-330Zh Zhitel in the uncontrolled territory of Donbas, 5km from the border with Russia.
"On 28 November at 23:29, about 4km west-north-west of Kovske (91km south of Donetsk) and about 5km from the border with the Russian Federation, an SMM long-range UAV spotted an electronic warfare system (R-330Zh Zhitel)," reads the daily report of the OSCE Special Monitoring Mission to Ukraine issued on 1 December 2020.
As noted, the Mission's freedom of movement continued to be restricted, including at a border crossing point outside government control near Dovzhanske, Luhansk region, and at a checkpoint of the armed formations near Kreminets, Donetsk region
As reported, while Russia continues to deny the fact that it is a party to the conflict in Donbas, the OSCE SMM continues to reveal new evidence that refutes this fake statement.
In particular, on November 8, the OSCE SMM first noticed Russia's latest electronic warfare system, Navodchik-2, near the temporarily occupied Luhansk city.
The OSCE SMM previously recorded numerous types of Russian-made weapons and military equipment in eastern Ukraine. In particular, electronic warfare systems R-934B Sinitsa, RB-636 Svet-KU, 1L269 Krasukha-2, RB-109A Bylina, Repellent-1 UAV warfare system, R-330Zh Zhitel and Tirada-2 jamming stations, Torn electronic reconnaissance system, Kredo-M1 portable ground surveillance radar system and other systems have been spotted in the temporarily occupied territories in eastern Ukraine.
The Armed Forces of Ukraine have never had all these systems and stations in service.
(c)UKRINFORM 2020