Gennady Trukhanov is in the lead in the election of the mayor of Odessa – exit poll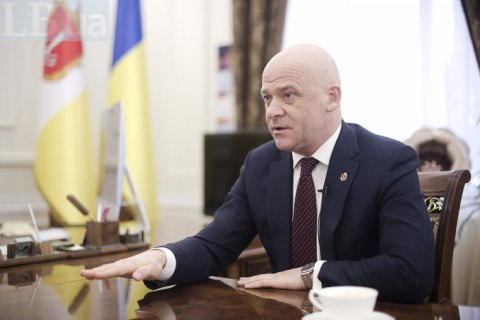 Photo: Max Levin
In the second round of elections of the mayor of Odessa the incumbent mayor Gennady Trukhanov is in the lead . He, according to preliminary estimates, is gaining 55.1%
This is evidenced by KIIS exit poll data as of 5 p.m.
His rival, MP and candidate from OPZZH Mykola Skoryk is gaining 42.8%.
The sample is representative of the city as a whole. As of 5 pm, 1,780 respondents were polled at 40 polling stations. The method of "secret ballot" was used. The reach rate (the number of voters who agreed to take part in the poll) is 66.6%. The sampling error should not exceed 3-4%.
In the first round, Trukhanov received 38.35% of the vote, and Skoryk – 19.47%.
Trukhanov was first elected mayor of Odessa in the early elections in May 2014, he received 43.39% of the vote. A year later, in October 2015, he won the next mayoral election in Odessa.
On April 14, the Anti-Corruption Prosecutor's Office informed Trukhanov of the suspicion under Article 366-1 of the Criminal Code (declaration of inaccurate information). According to the investigation, in the declaration for 2017, he did not specify the apartment, parking space, car and corporate rights that belonged to his civilian wife. The total value of undeclared property is estimated at 16.3 million hryvnias.
In November 2020, the Supreme Anti-Corruption Court closed the case accusing Odessa Mayor Hennadiy Trukhanov of declaring inaccurate information for 2017, as the Constitutional Court revoked responsibility under this article.
This is Trukhanov's second suspicion of his declarations. The previous one concerns unreliable declarations for 2015-2016.
The case of the theft of 92 million hryvnias in the period from July to December 2016 is also under consideration by the WACS Appeals Chamber. The scheme was implemented under the guise of buying the building of the bankrupt Krayan plant at deliberately inflated prices. Trukhanov is one of the suspects.
Another criminal case against the mayor of Odessa – about illegal enrichment – NABU was forced to close due to the decision of the Constitutional Court of Ukraine.
In April 2016, protesters set up a tent camp under the city administration demanding Trukhanov's resignation and held a rally (Odessa without Trukhanov action); on the night of April 26, activists' tents were attacked. On June 22, 2016, a forum of the Association of Cities was held in Odessa, which was attended by mayors from different regions. Then about 7 thousand inhabitants of Odessa transferred the address for the president of Ukraine with the demand of Trukhanov's resignation.
We will remind that on Sunday, November 15 in seven cities of Ukraine the second round of elections of the mayor took place . Mayors were elected in Kherson, Odesa, Lutsk, Sumy, Kramatorsk, Kamianets-Podilskyi and Ukrainka.
(C)LB.UA 2020