In Omsk, ambulances brought patients with COVID-19 to the building of the regional Ministry of Health, as hospitals refused to admit patients due to lack of places. After the protest action of doctors, places for patients were found.
The first ambulance arrived at the Ministry of Health building after 9 p.m. and brought a 70-year-old patient with coronavirus. Computed tomography showed 81% of the lung damage in the woman, but she could not be hospitalized due to a lack of places in hospitals. Doctors drove the woman around the city for more than 10 hours. They came to the building of the Ministry of Health to ask the head of the department Irina Soldatova where to hospitalize the patient, writes "NGS Omsk".
"We could not get an answer anywhere else and decided to ask, maybe they will tell us here. The patient is 100% in need of hospitalization, I cannot take her home either for human or medical reasons, "said an ambulance team physician, whose name the NHS does not name.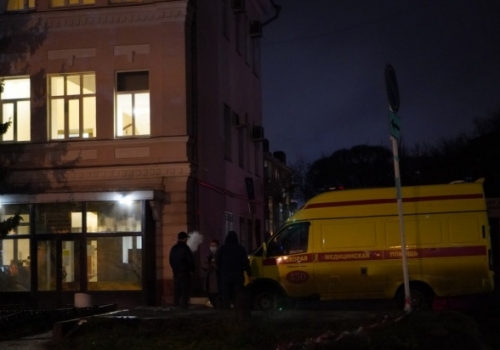 She added that situations where there is nowhere to take patients to her substation occurs almost every shift. In turn, the relatives of the elderly patient said that they called an ambulance for the third day. On October 27, the woman was taken for a computed tomography, but was refused admission to hospitals.
Later, two more ambulances arrived at the building of the Ministry of Health of the Omsk Region, writes Komsomolskaya Pravda. According to the NHS, in the second car there was an 85-year-old man with 88% lung damage, who was also not admitted to any hospital. The third car had supplemental oxygen, which was required by both patients.
Cars sounded sirens to attract attention, BK55 reported . No one left the building of the Ministry of Health, the relatives of the patients communicated with people on the watch. However, soon the ambulances together with the patients left for BSPM No. 2, Gorod 55 reported . A little later, the police drove up to the department building.
The chief physician of the ambulance station of the Omsk region, Maxim Stukanov, confirmed to Komsomolskaya Pravda that there were places for patients in BSPM No. 2. "There was a problem, we do not deny: in the morning we drove people around the city in search of vacant places in hospitals. Now seats have begun to vacate, two beds have appeared in BSMP-2. We are fighting further, "he said.
According to the federal operational headquarters for the fight against coronavirus, a total of 15,006 cases of COVID-19 were detected in the Omsk region (of which almost five thousand were in the last month). 11 917 cases recovered, 402 died. After the start of the second wave of the epidemic, residents of the region reported a  shortage of places in coronavirus hospitals and  difficulties with calling an ambulance.
(C)MEDUZA 2020