Military plane carrying cadets crashes near Kharkiv (Photo, video)
At least 20 people were killed in the accident.
Snapshot
A military transport plane, an An-26, has crashed in Chuhuiv, Kharkiv region, in eastern Ukraine.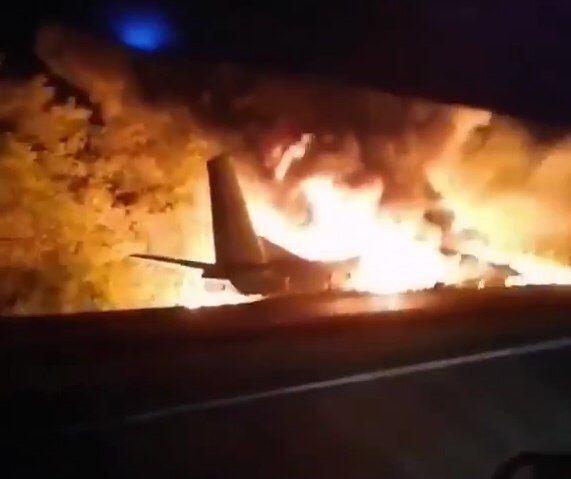 Snapshot
Massive fire is seen at the video stream from the crash site.
blob:https://www.facebook.com/1ee2a366-0652-4c2b-9b5a-50cf4e166a82
According to "Ukraine Now" Telegram channel, the plane with cadets of the Kharkiv Air Force University on board was conducting a training flight before it crashed in the area of Chihuiv at about 20:50 local time.
The latest report by the Ministry of Internal Affairs says 20 people were killed in the crash, while two people reportedly survived, having sustained severe burns to 90% of the body. The report is as of 21:45 local time.
The Ministry of Internal Affairs also said 23 people were on board the plane, including 18 cadets and five crew. At the same time, the air field tower claims 24 people were on board.
Massive fire at the crash scene was put out at 21:55.
This is breaking news that will be further updated.
(C)UNIAN 2020