Ukraine to hold urgent consultations on Lukashenko's 'secret' inauguration – Kuleba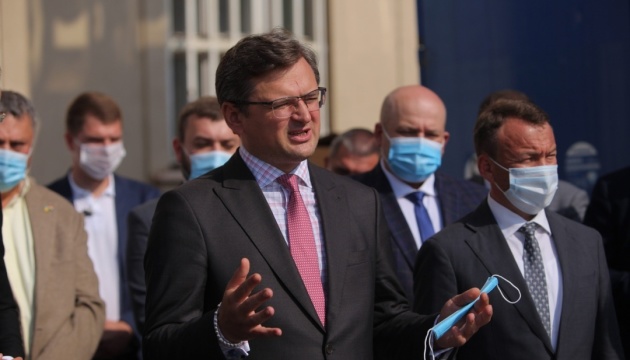 23.09.2020 15:04
The Ukrainian Foreign Ministry will hold urgent meetings and consultations to determine Ukraine's position regarding the inauguration and political status of Alexander Lukashenko.
Ukrainian Foreign Minister Dmytro Kuleba said this during his visit to Zakarpattia region on Wednesday, September 23, according to an Ukrinform correspondent.
"The inauguration was secret. No foreign ambassador was invited, even the ambassador of the Russian Federation that fully supports Lukashenko. Therefore, regarding the assessment of Lukashenko's inauguration and political status, we will hold urgent meetings and consultations to decide on our position," Kuleba said.
He said that Ukraine's position on the events in Belarus is very clear.
"The elections in Belarus were not free, fair and transparent," Kuleba said.
On September 23, Lukashenko took office as President of Belarus. The inauguration was not announced in advance for the first time, which came as a surprise to journalists and Belarusian society. In addition, according to the law "On the President of the Republic of Belarus," the swearing-in ceremony must be broadcast on television and radio. However, according to Belarusian opposition media, state channels aired TV series during the inauguration.
(c)UKRINFORM 2020