Outrage in Ukraine over interviews with Russian warlord, Crimea turncoat ex-prosecutor
Activists believe interviewing a terrorist who used to organize and lead armed units that fought Ukrainian troops in Donbas equals promoting terrorism.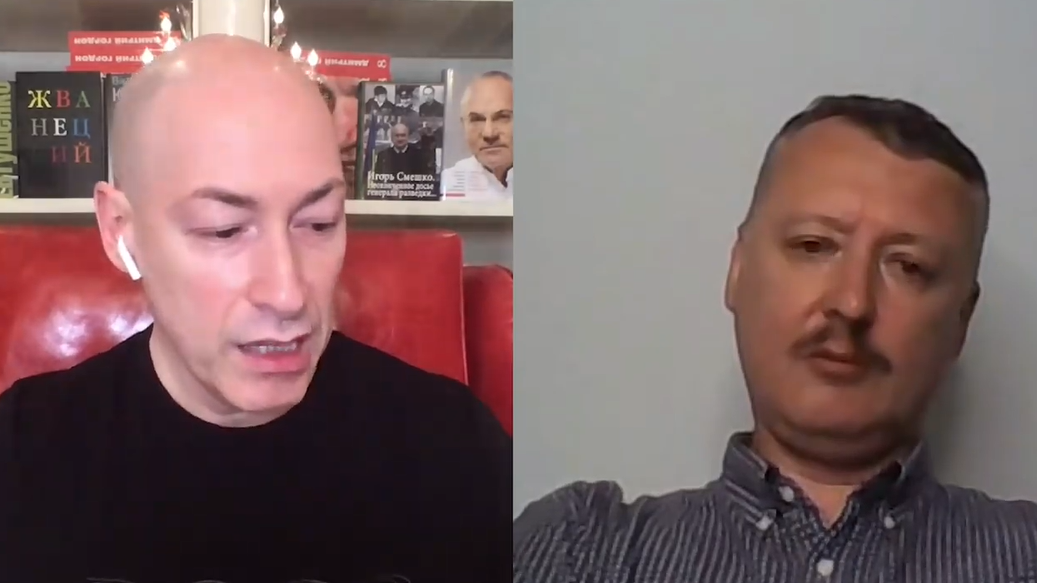 Snapshot
The two interviews aired over the course of just one week on a YouTube channel of Ukraine's long-standing and rather controversial media figure and host Dmitriy Gordon have sparked massive public outrage and even drew attention of the officials and law enforcement.
Gordon, who has largely been off the Ukrainian TV networks over the past years, focusing on his YouTube channel, raised many eyebrows as he uploaded last week an interview with Natalia Poklonskaya, an odious Crimean prosecutor who flipped sides during the Crimea annexation, acquired Russian citizenship and secured the post of chief prosecutor for the occupied peninsula before making it to Russia's State Duma in the latest elections held including in the seized Crimea, which Ukraine has repeatedly stressed must not be recognized.
The latest interview, aired on May 18, was with an infamous Igor Girkin (aka Strelkov), a Russian military veteran who led Moscow's proxy forces in Donbas at the onset of Kremlin's aggression in Ukraine's east. Girkin is also one of the four suspects in the MH17 downing trial ongoing in the Netherlands.
Activists, who in the late hours of Monday rallied outside Gordon's office in Kyiv, believe interviewing a terrorist who used to organize and lead armed units that fought Ukrainian troops in Donbas equals promoting terrorism and that it is unacceptable to provide a media platform for war criminals and persons who have committed state treason.
Journalists and opinion leaders took to social networks to share their indignation over the recent stunts by the Ukrainian host, with some expressing sheer disgust at the attempt to legitimize war criminals in the media space, some stating the fact that the interviews were anything but hard talk, being just way too convenient for speakers, and some raising questions: who fixed those interviews and for what purpose the provocative content is being broadcast.
After the Poklonskaya interview was published, Ukrainian President Volodymyr Zelensky's envoy for Crimea, Anton Korinevych, said: "The only kind of interviews and conversations with persons accused of grave crimes (including crimes against the foundations of national security of Ukraine, war crimes, prosecution of pro-Ukrainian activists and the unlawful ban of the Mejlis of the Crimean Tatar people) that we can and will listen to is the testimony of such persons in the framework of the relevant criminal proceedings in the status of suspects.
Such persons should bear responsibility before the country for committing high treason and before the society – for committing war crimes." Korinevich added that those who contributed to the occupation of Crimea cannot and will not be considered the "voice of Crimeans.
Meanwhile, the SBU security service of Ukraine said they would look into the interview with Igor Girkin to check whether Ukrainian legislation was violated.
In turn, Deputy Prosecutor General Gunduz Mammadov in a comment to reporters noted that it is "fairly common practice" worldwide to use in criminal proceedings information obtained from interviews with suspects.
(C)UNIAN 2020