Britain calls Nebenzya's statement at UNSC briefing on Ukraine a falsehood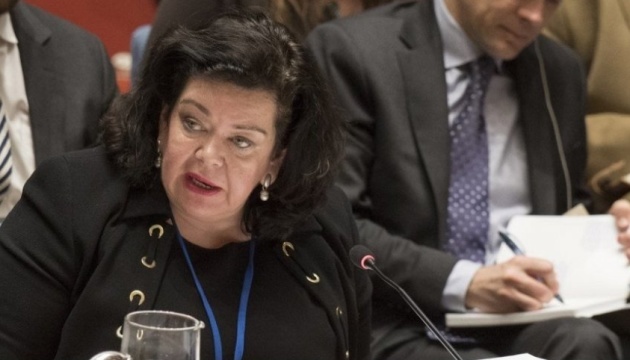 19.02.2020 09:36Russia's Permanent Representative to the United Nations Vasily Nebenzya made largely false remarks during a UN Security Council briefing on Ukraine on February 18.
UK Permanent Representative to the UN, Ambassador Karen Pierce, said this at that briefing in New York on Tuesday, according to an Ukrinform correspondent.
"The Russian Ambassador spoke at length about the failure of others in fulfilling their obligations under the Minsk agreements. His account was largely a falsehood, wrapped in a fiction inside a fairy tale," Pierce said.
She added that Russia's position that local elections should pave the way for special status to be granted in parts of the Donbas is correct, but requires considerable clarification.
"But these local elections can take place only under proper conditions. And these conditions include a comprehensive ceasefire, unfettered access for the OSCE Special Monitoring Mission and the withdrawal of foreign troops. And this is a far cry, as we've heard, from the reality we face today," the diplomat said.
Pierce also called on Russia to immediately cease the practice of sending uninspected "humanitarian convoys" across the border and to focus instead on facilitating the safe delivery of international aid "based on an agreed international mechanism as foreseen under the Minsk agreement."
(C)UKRINFORM 2020