Ukraine's Embassy to UK demands Tryzub be removed from Extremism Guide
It also includes Greenpeace, Peta and other non-violent groups as well as neo-Nazis. British law enforcers consider Ukraine's Tryzub to be an extremist symbol / Photo from UNIAN
The Ukrainian Embassy to the United Kingdom demands that the official coat of arms of Ukraine Tryzub (Trident) be removed from the British Extremism Guide.
"Placing the Trident #Tryzub, [the] constitutional national symbol & Coat of Arms of #Ukraine, in Extremism Guide produced by @TerrorismPolice for UK teachers & medical staff is beyond outrageous.
No explanations acceptable," the Embassy said on Twitter on January 19. "We demand Trident be removed from Guide with official apologies."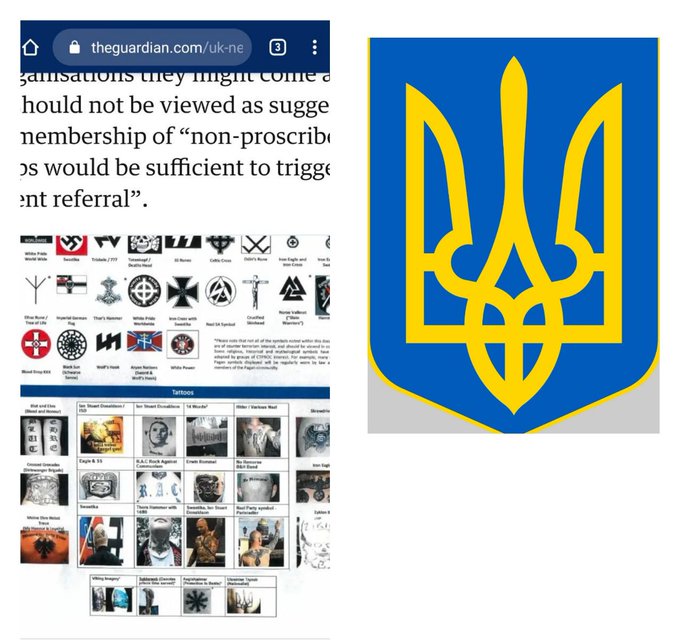 The guide is produced by Counter Terrorism Policing and used across England as part of training for Prevent, the anti-radicalization scheme designed to catch those at risk of committing terrorist violence, The Guardian said on January 17.
Journalists drew attention to the fact that the counter-terrorism police document distributed to medical staff and teachers as part of anti-extremism briefings included Greenpeace, Peta and other non-violent groups as well as neo-Nazis. It also features the Ukrainian Azov battalion's insignia.
(C)UNIAN 2020