Iranian military says requested no-fly zone before downing Ukrainian plane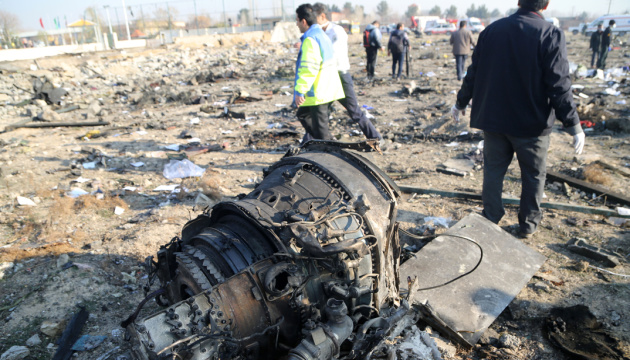 11.01.2020 14:28
Islamic Revolutionary Guards Corps (IRGC) Aerospace Commander Amir Ali Hajizadeh has said that before the shooting down of a Ukraine International Airlines plane in Iran, IRGC requested the establishment of a no-fly zone due to the war situation in the country.
He said this at a news conference on Saturday, January 11, according to Reza Khaasteh, a journalist of local news site Iran Front Page.
"IRGC Aerospace Cmdr says we had requested the establishment of a no-fly zone given the war situation. But it was not approved for certain considerations," he wrote on Twitter.
According to Hajizadeh, an air defense operator sent a message to his commanders, but after he did not receive any response for ten seconds, he decided to shoot the plane down. "The air defense operator had been told a cruise missile has been fired. He has mistaken the passenger plane with a cruise missile, and after his message to his commanders was not answered probably over jammed communications, he shot the plane," the tweet reads.
Hajizadeh also showed the place on map where the Ukrainian plane was shot down by the air defense.
According to him, he informed Iranian officials on Wednesday morning that IRGC suggests it had shot the plane with Iranians on board. "But the General Staff of Armed Forces quarantined all those who knew about it, and decided to declare it later," he said.
"The officials, including Aviation authorities, who kept denying the missile hit, are not guilty. They made those remarks based on what they knew. We are to blame for everything. We were at that time ready for an all-out war with US. We had reports of cruise missiles fired at Iran. It was an individual's error that caused this tragedy," Hajizadeh said.
On January 11, Iran admitted that its military had accidentally shot down a Ukrainian passenger jet.
In this regard, Iranian Foreign Minister Mohammad Javad Zarif wrote on Twitter that the crash had been caused by a "human error."
Iranian President Hassan Rouhani apologized for the shooting down of a Ukrainian passenger plane by the Iranian military, expressing his condolences to the families of the dead. He called the plane crash a disastrous mistake.
A Ukraine International Airlines plane (flight PS752), en route from Tehran to Kyiv, crashed shortly after take-off from Tehran's Imam Khomeini International Airport early on January 8. There were 176 people on board the aircraft. All of them died. The crash killed 11 Ukrainians (two passengers and all nine crew), 82 Iranians, 63 Canadians, ten Swedes, four Afghans, three Germans, and three Britons.
The Islamic Revolutionary Guard Corps is a branch of the Iranian Armed Forces. The commander of the IRGC Quds Force was Major General Qasem Soleimani, who was killed in a U.S. air strike near Baghdad Airport in the early hours of January 3, 2020.
(C)UKRINFORM 2020