Monday, August 19, 2019 1:00:52 PM
The plane with the Russian delegation and Russian government media journalists was accompanied by two Swiss Air Force fighter jets over Geneva for several minutes, reports RIA Novosti.
The Russian government delegation and journalists were on their way to cover the talks between Russian President Vladimir Putin and French President Emmanuel Macron in France.
Кремлевский пул РИА@Kremlinpool_RIA
Передовой самолёт с российской делегацией и журналистами кремлёвского пула, которые будут освещать переговоры Путина и Макрона на юге Франции, несколько минут в небе над Женевой сопровождали два истребителя швейцарских ВВС.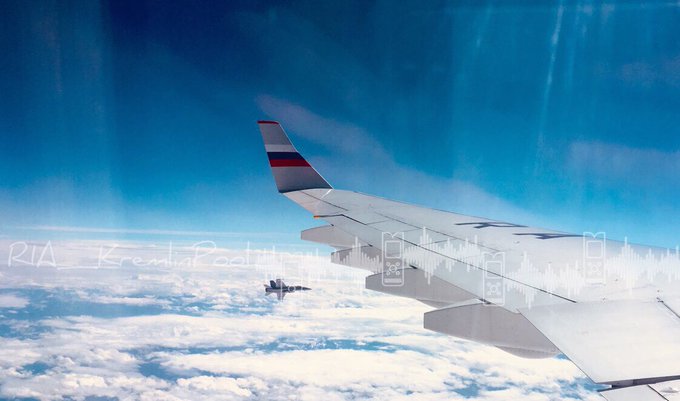 Commenting on the incident, Putin's spokesman Dmitry Peskov said that this is not the first such case. "We sent a note, and the Swiss said it was an act of hospitality."
A similar incident occurred in November 2016, when the Russian president's plane was heading to Peru for the APEC summit. Then several Swiss Air Force fighter jets approached the Russian Il-96-300 and flew beside it for 10 minutes. Vladimir Putin, commenting on the case, suggested that the actions of the Swiss pilots should be considered an "honorary escort".
A spokesman for the Swiss Ministry of Defense explained that it was a routine inspection. He compared the incident to a police patrol checking the car to "make sure it wasn't stolen".
On August 13, a Spanish Air Force F/A-18 fighter jet approached a plane carrying Russian Defense Minister Sergey Shoygu over the Baltic Sea. Shoygu was on his way back to Moscow from Kaliningrad. The Spanish pilot changed course when a Russian Su-27 which was accompanying Shoygu's plane flew in its direction.
Later, NATO's representatives reported that it was a NATO patrol mission fighter jet based from the NATO airbase in Lithuanian city of Siauliai. NATO representatives said the Su-27 was flying with the transponders turned off and called the actions of the Russian pilot "an unsafe maneuver".
(c) UAWIRE 2019